Downloads
Utilities
MMP squadron paint sets
The Promised Land
Sir Alesi's Alpine Island
Cap'n Darwin's FCJ Control Panel
HASP MMP Toolkit
Terra Nova Channel Map
Level FM/DM V2
RFSv4 Roland CII fix
RB3D River branch rotation fix

Back to Home page
---
These useful RB3D utility programs used to be available for download from the Wings of Valor web site, which sadly has now disappeared. All credits should go to the original creators, I just provide the web space to make them still available to the RB3D community.
Campaign Manager version 1.1
This is a useful program written by Von Tom that helps manages patches and add-ons to Red Baron. It also provides the ability to resurrect killed pilots, skip missions, alter game time, create a pilot log book, and other functions. "vbrun300.dl" is a file that is required by Campaign Manager. If you receive an error regarding this file, download it, unzip it and install it into your c:/windows/system folder. The Campaign Manager runs well on Win XP, but as far as I know it does not work on Win7. If you can figure out how to fix that, please send me a message and I'll post the fix.
Download cm11.zip (2.0M)
Download vbrun300.dll (225K)

RB3D First Aid Kit beta 1.01
The "RB3D First Aid Kit" by Klay Pijon helps get Red Baron 3D running properly on newer, faster PCs. It addresses video, sound, joystick, and game speed issues. The kit contains a "wizard" program that can help you install the appropriate programs and files, based on your PC's hardware and software configurations. The "wizard" can also uninstall "first aid kit" files and programs. The "RB3D1078.exe" patch is also included (you need this patch to see on-line servers).
Download the RB3D First Aid Kit (2.4 MB).

Red Baron Online Player's Assistant v0.0.0c Beta
The program manages several of the multiplayer related chores. Use it to easily edit your chat macros, create multiple macro sets, manage your custom server maps, and manage an unlimited number of gunsights. (Gunsights are provided in a ZIP file.)
Download rbPlayer000cBeta.zip (2.7MB)
---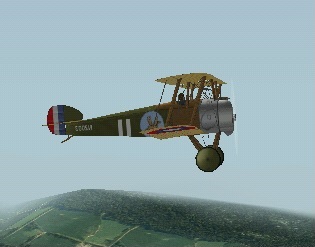 A Sopwith Camel from Camel Squadron (#84)
Flybert's web site with the original MMP squadron paint set collection is long gone, and in the interest of the remaining RB3D community I am sharing a copy of my Sierra/RedBaron3D/Paint folder which includes Flybert's complete squadron paint set collection (version 35g, 09-09-2008) plus a few personal Kamel Kings paints provided by KK_Zilski. Many thanks to Flybert for compiling the original paint set collection, and to all the creators of the various squadron paint sets.
Download
RB3D Paint folder (download size = 40 MB)
Install instructions
Make a backup copy of your Sierra/RedBaron3D/Paint folder so that you can restore the game setup if you get lost.
Download Paint_folder.zip from the link above.
Extract the contents of paint_folder.zip to your Sierra/RedBaron3D folder with the options 'Overwrite existing files' and 'Use folder names' selected. This will replace your current Paint folder with the contents of my Paint folder.
To select a paint set for your plane, click on the Change Aircraft button in the game lobby screen and enter a squadron number in the Squadron field (e.g.84 = Camel Squadron, 120 = RAC).
Notes
For details about which squad numbers are associated with each paint set, check out the Squadron/Jasta paint scheme SQ#ID list in the file MMPIDv36g.rtf.
The initiation file paintcfg.ini in the Paint directory associates a sq code id number with a scheme's .cfg file , aircraft model type and Paint/foldername. If you add more paint sets, this file must be updated accordingly.
---

The Promised Land site is long gone, but I think these patches still deserve to be made available to the Red Baron 3D community. IMHO they are some of the best freeware scenery and object packs for RB3D. All credits for the original patches should go to Kessler and the Promised Land, I just provide the web space.
The Promised Land All Seasons Superpatch v1a (download size = 50 MB)
The Promised Lands All Seasons Superpatch (PLv1a) is a complete enhancement of the RB3D game. It includes terrains in all seasons, high quality plane skins, sky and clouds, buildings in various seasons, rail station and trains, observations balloons and objects, a complete new sound pack, and more. Can be combined with HASP or the Western Front Patch (install Plv1a first!)
---
Promised Land "PL2" Glide terrain (download size = 10.8 MB)
Promised Land "PL2" style Glide terrain patch for Red Baron 3D compiled by Skidmark from contributions by DeltaK and Dark4ces. These are the editable, individual tile bitmap files!
PL2 terrain aerodrome landing lights (download size = 106 kB)
This is an add-on by Skidmark to the PL2 style Glide terrain for Red Baron 3D. From a distance in the dark the landing lights twinkle just like firepots. Very cool!
PL2 terrain blue rivers add-on patch (download size = 1.5 MB)
This is an add-on by Skidmark to the PL2 style Glide terrain for Red Baron 3D. It includes replacement blue river tiles for all seasons.
PL2 terrain and PL objects combination set (download size = 20 MB)
(New updated version from 2009-04-09 with distance river tile problem in 3dpatch.vol corrected).
This download compiled by Skidmark includes the Promised Land "PL2" style Glide terrain and the PL Object pack with ground objects, skies and effects, all bundled together in three .VOL files (3dfall.vol, 3dwinter.vol and 3dpatch.vol) for easy install. See Readme file inside for instructions.
PL2 terrain and PL objects with landing lights and blue rivers (download size = 19 MB)
Same as the above combination package, but with the aerodrome landing lights and blue rivers included.
---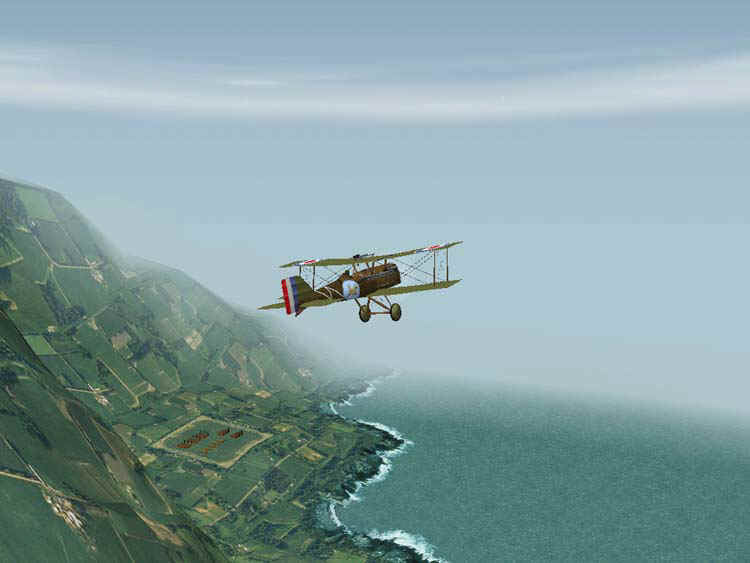 The Island terrain patch by Sir Alesi transforms the standard in-game MMP island terrain into a breathtaking alpine landscape with towering mountains and deep canyons.
Download
Download the patch install program by clicking here. (download size = 535 kB)
An updated version of the BAT file used to switch the patch on/off can be found here.
---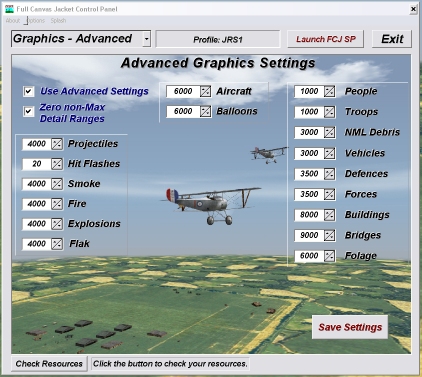 This is the latest version of the Full Canvas Jacket Control Panel by Cap'n Darwin (ver 2.2b from 2004). This utility program allows unprecedented control of various settings within RB. The original version of this utility was developed for, and distributed with, the Full Canvas Jacket patch by the Promised Land. This download is an updated version originally published by Cap'n Darwin on his web page at SWWISA, which sadly is no longer available. It allows you to select screen resolutions up to 1600x1200, and to tweak many other game settings beyond the limits in the original game. It is not only useful for tweaking the FCJ patch, you can in fact install and use this program with any version of Red Baron (Clean, Hell's Angels, WFP, etc).
Download
Download the FCJ Control Panel by clicking here. (download size = 4.2 MB)
The FCJCP.exe and the two profile folders need to be installed in the main Red Baron folder where the baron.exe resides in order to function properly.
---
The Hell's Angels SuperPatch (HASP) is a great RB3D patch, but the full single player version is not compatible with RB3D multi-player mode (MMP). However, I have found a way to overcome this problem. The idea to the project originally came up when Otto von Stachel released the official HASP MMP patch as a separate patch. I already have four separate RB3D installs (stock/MMP, Hell's Angels, Western Front Patch, & Full Canvas Jacket) that together with some other RB3D utilities occupy more than 5 GB of disk space, so I didn't like the idea of having yet another one just for HA MMP.
I also wanted to retain as much as possible of HASP in MMP mode, rather than having a separate stripped down MMP patch. However, I wanted to use the stock RB3D cockpit instrument panels for MMP to play on equal terms with other pilots.
Why use my HASP/MMP install rather than the "official" HASP MMP patch?
Well, I can only quote Otto von Stachel from his release notes for the Hell's Angels Multi Player Patch: "This is a scaled down version of HASP that is meant to be used as a separate install into your MMP version of RB3D. It does not include any cockpits, effects, ground objects, or any of the special shell enhancements from the original version." The difference is that I have not deleted anything from the HASP patch, only moved those files that are not compatible with MMP from Simpatch to Shellpat (+ optionally the custom cockpit files if you want stock cockpits in MMP).
After applying my toolkit, the HASP Simpatch folder (which contains the files that are used in both MMP and SP) contains 4553 files, whereas the HA MMP patch has 3163 files in Simpatch. So I guess there are 4553 - 3163 = 1390 reasons for using my setup instead :-)
What's in the toolkit?
The toolkit consists of two batch files that enable you to create a full HASP install for both SP and MMP game play. This is done by moving the flight model and aircraft spec files and (optionally) the custom instrument panel files from the Simpatch folder to the Shellpat folder in order to achieve MMP compatibility.
I have tested this modified HASP install in MMP on several servers, some with added security, and also on RSS servers without any problems. I have also tested in SP (Fly Now, Single mission, and Campaign mode). Thus, I think that the time has come to offer this toolkit to anyone else who would like to try it. I take all credit but accept no responsibility. :-)
Download
Download the toolkit by clicking here. (download size = 5 kB)
---

This is a new MMP map for Red Baron 3D made by RAF_Python. It replaces the island map in the stock game and has many targets. Please read the install instructions carefully. If you use a separate patch manager, like e.g. Von Tom's Campaign Manager, I recommend that you install the patch files into a temporary folder to see which files should go into the Data and into the Multi folders, respectively. Please note that the modified in-game map file mpkbd4.bmp should be placed in the Multi folder.
Terra Nova Channel Map (download size = 1.8 MB)
---
In the Level FM V2 patch made by Rens, the stock NFM/AFM flight and damage models of the various (mostly Hun) planes that are known to be dead meat have been replaced with more competitive models copied from selected allied planes. The pilot head size problem in the Pfalz DXII has also been fixed. This patch is included in the set of FM/DMs that come with Rens' SecPlayer program (see Rens' RB3D page and his post at Wings-of-Valor ). The patch is re-published here with permission from the original author.
Summary of FM/DM modifications
| | |
| --- | --- |
| Aircraft | Flight/Damage Model |
| Halberstadt D II | FM + DM = Spad7 |
| Albatros D III | FM = N24 |
| Albatros D Va | FM + DM = N28 |
| Pfalz DIII | FM = N28 |
| Fokker D VII | DM = SE5.a |
| Pfalz D XII | FM = Spad13, DM = Pfalz12 (head size bug fixed ...) |
| Spad 13 | DM = Pfalz12 (head size bug fixed...) |
Download
Download the Level FM V2 by clicking here. (download size = 15 kB)
Install instructions
Make a backup copy of your Data\Multi folder, and rename it e.g. "Data\Multi_backup".
Unzip the contents of the Zip file into your Data\Multi folder.
Uninstall instructions
To restore your normal Red Baron 3D MMP configuration:
Rename the Data\Multi folder to e.g. "Data\Multi_LevelFM".
Rename "Data\Multi_backup" to "Data\Multi".
Patch management tools
Von DM's Campaign Manager or Rens' FM switcher are excellent tools for activating/deactivating the patch. Just add the patch to the patch library of your favorite tool. All the patch files should go into the Multi folder.
---
The MMP Real Front Server patch ver 4 (RFSv4) available from Rens' RB3D page has a bug which causes a crash to desktop if you fly the Roland C2 plane with RFSv4 installed on a stock Red Baron 3D game. Players using the PLv1a superpatch, Rens HQ plane patch, or the Hell's Angels MMP patch do not have this problem, which is caused by some missing files in the RFSv4 patch download.
The work-around so far (if you don't want to use one of the above patches) has been to install the Plane Parts patch from the HiQuality Planes section at Rens' page. However, this patch consists of almost 7 MB of files of which only a very small number are actually needed to fix the Roland problem. I have identified the missing files and collected them in a small zip file (53kB).
Download
Download the RFSv4 Roland CII fix by clicking here. (download size = 53kB)
Install instructions
Copy the contents of the zip file to your Multi folder after installing RFSv4.
Acknowledgements
Thanks to 2Esk-Lucas for suggesting how to track the missing files.
---
Have you ever noticed that as you approach some river branches (where a river meets a river) from distance that it is wrongly rotated until you get closer? One such location is the river branch WNW from the starting point in Fly Now, another is the river branch on the western allied side of the MMP Island map. The root cause of the problem was found and fixed by Zsolt Fazekaszs and Mark_66 at SWWISA. For more details, see riverfix.txt inside the download zip file.
Download
Download the RB3D River branch rotation fix by clicking here. (download size = 45kB)
Install instructions
Unzip all the .DML files to your Data/Simpatch folder.
Acknowledgements
Many thanks to Zsolt Fazekaszs for finding the root cause of the problem, and to Mark_66 for providing the fix!
The DML river fix is published here with permission from Mark_66.
---
Last updated: 2019-12-20 CSq_Swordfish[at]hotmail.com